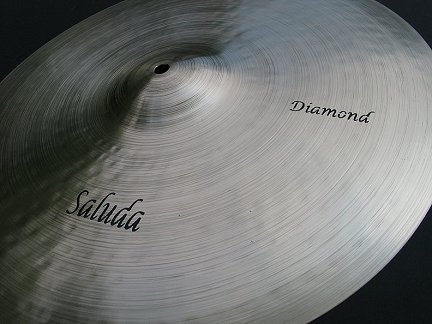 ---
Saluda's Diamond series is comprised of very complex and semi-dark toned cymbals. The series features a traditional, classic finish with fine lathing and plenty of hand hammering for a beautiful appearance and shine (the cymbals are not silvery in color; these have a normal cymbal color). Like all Saluda cymbal series, these are hand crafted, in fine B20 bronze alloy.
The Diamond series is geared for those who want their cymbals to be a little darker, more expressive, responsive, very complex and lively. These are not dry and they are not overly bright. These are excellent cymbals for using in many musical genres in which you need a cymbal for a rock gig but to take the same cymbal to a jazzy gig the next night (with lighter sticks of course).
Saluda considers this a 'wide open series'. This means you have a very wide range of selections from thin to extra heavy ( from brighter to darker) and offered in splashes, crashes, vented crashes, crash rides, rides, chinas, hi-hats, china splashes, china crashes, flat ride and gongs (coming soon).
For the classic cymbal look with plenty of versatility, this is a solid series to get. In comparison, if you like a more unique finish, try the Nemesis series. Both the Diamond and Nemesis series have similar sound qualities.
Notice: If you have any questions about any of our series, give us a call or check out Saluda's Forum section.