The Decadence Series officially released on September 9th, 2009. This cymbal line celebrated Saluda's first 10 years in the cymbal industry! For this series, Saluda wanted something that would directly show, both visually and sonically, what they had accomplished over the past decade of cymbal crafting.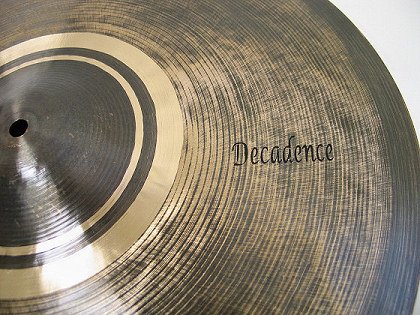 The Decadence series features a sparkle lathing that increases the surface area where sound releases. This means the sound explodes off the surface making these react faster than our other series. The darkened bell area is completed with two accent stripes. The underside is also complimented in the sparkle lathing.
The Decadence Sound: These are smooth, semi-clear toned and are explosive with a nice balance of medium to medium-bright tones.
You will find these big sounding with added fullness and a little sparkling brightness.


(To Order Reverse Chinas, order your sized china and write in 'Reverse China' in the checkout comments). If there is anything to clarify, you can write notes in the checkout comments or email in afterward.